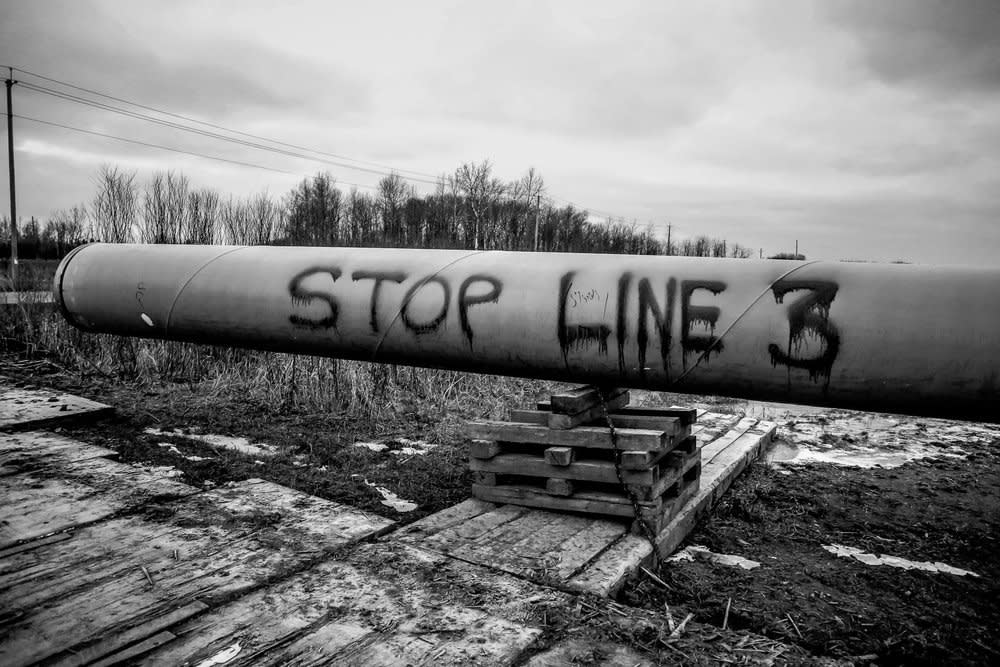 Enbridge Never Built A Pipeline That Didn't Spill
Stop Line 3 - Join the fight for Indigenous and environmental justice
This article was written by the NooWorld Editorial Team. To submit an article for publication, please write editor@noo.world
---
Energy transportation giant Enbridge wants you to think there's nothing going on in Minnesota—that they're just replacing an existing pipeline. 
But here's the truth: Line 3 is a brand new pipeline that will transport up to 915,000 barrels of crude oil every day from one of the world's most destructive operations, the Alberta Tar Sands, to Wisconsin. In Minnesota, the pipeline will pass through treaty-protected Native American territories and delicate, ecologically critical wetlands and lakes. 
And what's the one thing we know about pipelines? They spill. In fact, Enbridge has never built a pipeline that didn't spill. Check out Greenpeace's report on their history.
It's not a matter of if. It's when. 
But there's still time to stop it, and organizers doing amazing work to make sure we get there. Here's why to help:
What's at stake?
Indigenous sovereignty: Line 3 is modern-day colonialism, pure and simple. The pipeline crosses Anishinaabe territory and ceded lands, and would disrupt Ojibwe wild rice beds and local hunting, fishing, and foraging. The local indigenous people have not given their consent for the pipeline's construction. 
Climate stability: the new pipeline would contribute the equivalent of 50 new coal plants' worth of fossil fuels to the environment. 
Ecosystem health: oil spills are always bad, but tar sands spills are worse than most. This dirty oil sinks, making it much harder to clean up. And Line 3 would endanger pristine, endangered wetland ecosystems as well as critical watersheds including the Great Lakes.
Public health: aside from the risks of construction during a pandemic and the public-health injustice of building dirty oil infrastructure through Native territories, tar sands extraction releases cancer-causing chemicals into Alberta communities.
And here's how to help:
HOW TO TAKE ACTION: FROM HOME
DIVEST
Until March 31st, there's a major opportunity to make sure Line 3 doesn't get the funding it needs. On that date, 18 major banks must renew a $2.2 billion loan to Enbridge. You can defund Line 3 by divesting your money from Citi, Wells Fargo, Bank of America, Chase, and others, and encouraging others to do the same, using this handy guide to divesting. 
You can also send a direct mail to bank CEOs, demanding that they cut ties with the project now, or call bank CEOs using this script. 
DONATE
This campaign needs cash—and you can send money directly to indigenous-led organizations working on the ground. The Giniw Collective is a women-led group of water protectors protesting on the site, and RISE Coalition, also led by women, is putting pressure on the tribal, state, and local governments. 
Or, to support people arrested and prosecuted while protesting Line 3, donate to the legal fund. 
CREATE PRESSURE
Quick actions if you're pressed for time: sign petitions to Biden from 350 and the Rainforest Action Network, demanding that he cuts the crap and stops Line 3 NOW.
Send a letter to the editor of your local newspaper laying out why the pipeline is suicide for Minnesota, the country, and the world. Here's a handy guide put together by our friends at MN350.
HOW TO TAKE ACTION: ON THE FRONTLINES
Get ready for a mass mobilization to the frontlines this March. Join a frontline action orientation call organized by Resist Line 3, a coalition of grassroots groups, or sign up to join a week of action in MN on March 8–14, organized by XR US and local XR chapters. 
If you're already in Minnesota, you can join MN350 at the Stone Arch Bridge every Saturday at 2–3pm, to spread awareness.