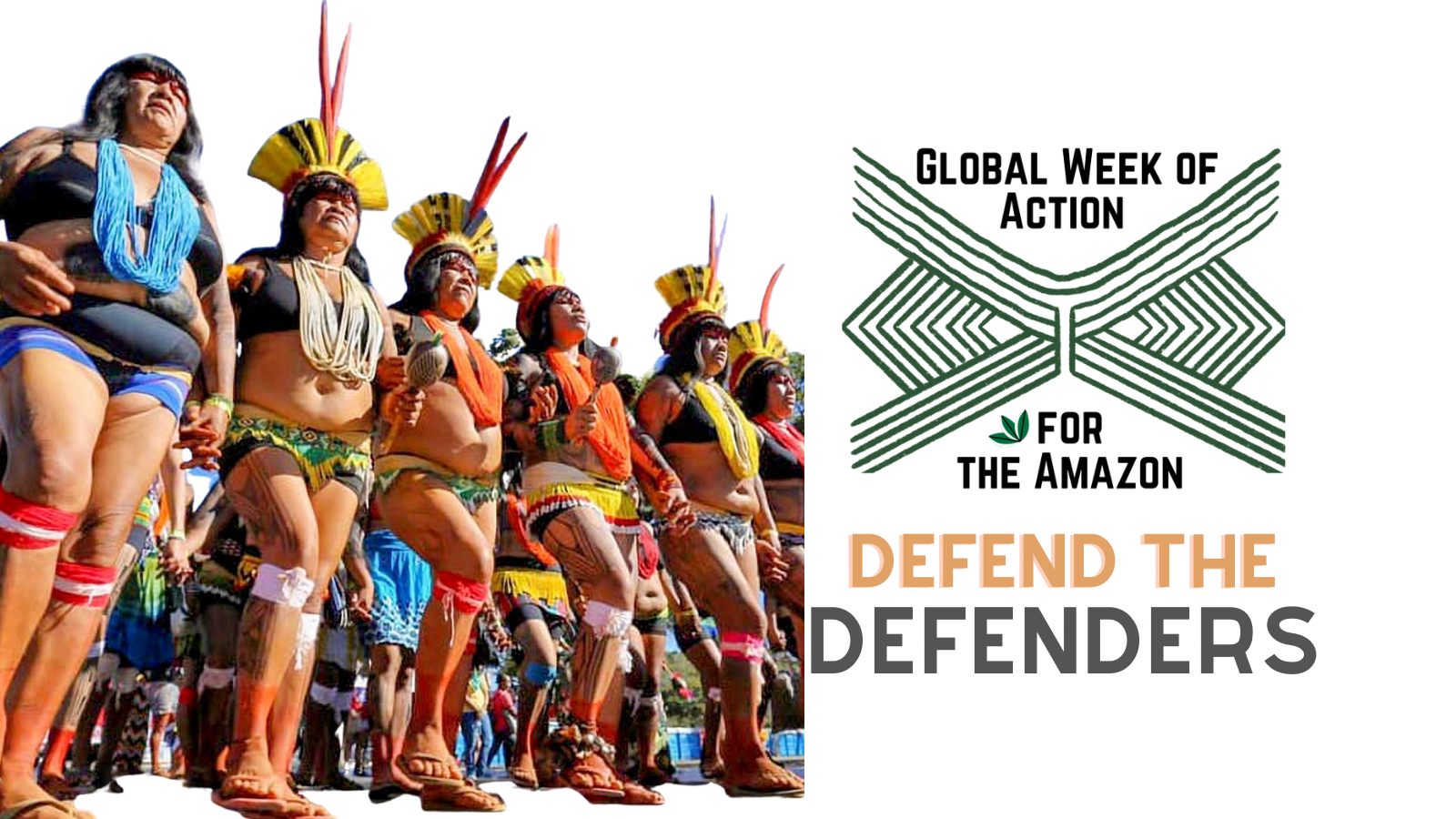 Tuesday, September 7: Defend the Defenders
Brazil's Independence Day is a Day of Resistance in solidarity with Indigenous earth defenders who are under attack for defending their rights, lives, and territories across the Amazon. Let's take this day to show solidarity through in-person and online action to draw attention and offer support.
Online:
Join our Twitter storm in support of the Shuar Arutam People
On March 26th, María Taant, a Shuar woman and defender of the Amazon Rainforest in Ecuador, member of Mujeres Amazonicas, was run over by a car while returning home from an event organized by the Ombudsman's Office. Since then, not a single investigation has been launched to bring justice for Maria. Unfortunately, this is all too common for Indigenous women defenders in Ecuador and enough is enough! Mujeres Amazonicas are demanding that the Ecuadorian prosecutor's office launch a transparent investigation monitored by the Ombudsman's office! Sign the petition to demand Justice for Maria Taant and protection for Indigenous women defenders!
Read and sign the Global Letter to support Indigenous peoples of Brazil against the Bolsonaro government and its allies who are promoting genocide and ecocide. According to the so-called "Milestone Thesis", the right of Indigenous peoples to ancestral lands would be restricted to a certain date (October 5, 1988), disregarding the fact that these are the original populations of the continent, also ignoring the history of forced expulsions since the European invasion. That is why- from where ever you are - help say "No to the Marco Temporal". Indigenous peoples are the true defenders of the planet. By fighting for their right to life and land, they are also fighting for our survival! 
Indigenous peoples from across Brazil are assembling in Brasília for a national demonstration they have named the Struggle for Life Camp. The mobilization reunites members of 120 nations to fight against the erasure of Indigenous history and sovereignty in Brazil. Learn more about and donate to the Struggle for Life Camp.
Every day, commodities from deforested lands in the Brazilian Amazon are shipped to the United States and global markets. This year, deforestation there reached a 12-year high, driven by criminal arson and encouraged by government policy. Behind the destruction of the Amazon, are Indigenous peoples facing land conflicts, Indigenous rights violations, and violence. International financial firms and companies are complicit as they place profit over the lives of people and our planet. In our most recent report with the Association of Brazil's Indigenous People (APIB), Complicity in Destruction III we exposed the true drivers of today's crisis –from political delinquency to market complicity. Watch the story of an anonymous Indigenous leader, exposing the real consequences of this complicit network.
In-person action:
For

San Francisco Bay Area-based people, meet us

i

n front of the Brazilian Consulate at 300 Montgomery st. San Francisco, CA 94104. It'll be

an evening action focusing on photo projections and songs of Indigenous women defenders.

Learn about ways that Indigenous women are targeted in the Amazon and treated for their fierce resistance. Come witness powerful Amazon women defenders from history as well as learn about current frontline women defenders and how they're asking for our support.